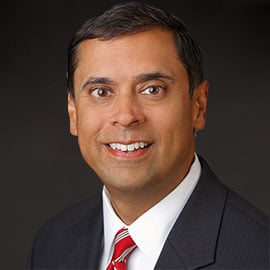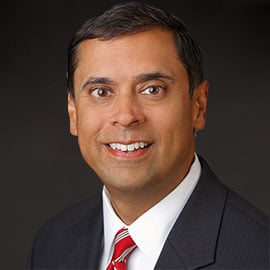 Raj P. Singh
Senior Banking Director
Education
Masters in Business Administration from Loyola Marymount University
Bachelor of Arts degree from the University of California - Los Angeles
Expertise
Raj has over 20 years of experience in private, commercial, and corporate banking, with expertise in the areas of commercial real estate lending, private aviation loans, premium finance transactions, credit underwriting, and private banking/wealth management.
Experience
Raj Singh is a Senior Vice President and Senior Banking Director at The Northern Trust Company. In this role, Raj is responsible for leading the regional Private Banking and Commercial Lending practice for the Orange County Wealth Management Group, focusing on custom-tailored credit solutions for successful families, business owners, C-suite executives, institutions, and closely held operating companies. Raj directly oversees a diverse, active, and complex multi-billion dollar loan portfolio, and also manages some of the largest client relationships in the Orange County office. Raj is also a voting member of Northern Trust's West Region Credit Committee.
Community Involvement
Raj has served on boards for various Orange County-based not-for-profit organizations, including Olive Crest and Plasticos Foundation. Currently Raj is a member of the Planning and Fundraising Committee for City of Hope's Let's Be Frank About Cancer organization.