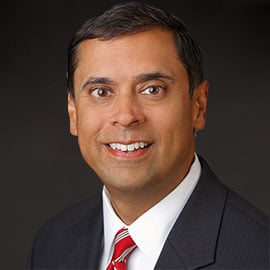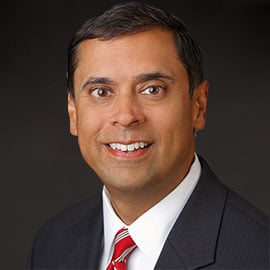 Raj P. Singh
Senior Banking Director
Education
Masters in Business Administration from Loyola Marymount University
Bachelor of Arts degree from the University of California - Los Angeles
Expertise
Raj Singh has over 16 years of experience in private, commercial, and corporate banking, with expertise in the areas of commercial lending, real estate, credit underwriting, and private banking/wealth management.
Experience
Raj Singh is Senior Vice President and Senior Banking Director for Orange County. In this role Raj is responsible for overseeing the Banking/Lending practice as well as managing and growing a multi-million dollar loan portfolio for clients, which includes successful families, business owners, senior executives, institutions and closely held operating companies. He is also a member of Northern Trust's West Region Credit Committee. Prior to joining Northern Trust, Raj was a Vice President and Senior Relationship Manager in Wells Fargo's Corporate Banking Group. Prior to Wells, he spent 8 years at Citi as a Senior Credit Officer/Relationship Manager in the Franchise Lending Group.
Community Involvement
Raj is currently a Board Member at The Plasticos Foundation based in Newport Beach, CA.