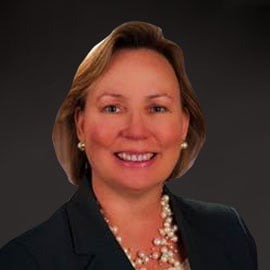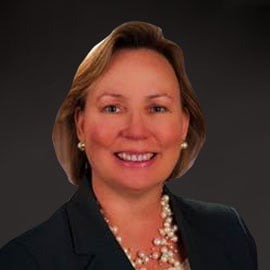 Linda C. Flewelling
Senior Market Executive
JOINED NORTHERN TRUST
1986
Education
MBA and BBA in Finance from the University of Miami
Graduate of the American Bankers Association National Trust School at Northwestern University
Credentials
Chartered Financial Analyst (CFA)
Certified Investment Management Analyst (CIMA ®)
Certified Private Wealth Advisor (CPWA)
Certified Trust and Financial Advisor (CTFA)
Expertise
Previously, Linda served as the Senior Managing Director of the West Florida Wealth Advisory Team. Prior to that role she served as the Senior Investment Officer for Southwest Florida directing the activities of the Trust Investment Department. Linda joined Northern Trust in 1986 as a portfolio manager assigned to personal and charitable trusts, investment management and employee benefit accounts, working primarily with multi-generational families and individuals on asset management and wealth transfer issues. Linda has over 30 years of experience in asset allocation, manager selection, and security selection for a broad range of clients and investors, and is a previous member of Northern's Stock Selection Committee.
Experience
Linda C. Flewelling, CFA, CIMA, CPWA is the Senior Market Executive for the Southwest Florida Region of Northern Trust Wealth Management. She is responsible for working with the teams and Managing Directors in our Naples, Bonita and Fort Myers offices in delivering the exceptional client service and partner experience that is and has been a hallmark of Northern Trust for over 130 years, and locally for over 40 years. The deep expertise of the teams is comprised of seasoned investment, fiduciary, and private banking professionals broadly serving the wealth management needs for high net worth families, individuals, entrepreneurs, and charitable organizations.
Community Involvement
Actively involved in the community, Linda currently serves on the Board of Trustees for Artis-Naples, and has served on the Advisory Council for the Holocaust Museum of Southwest Florida, and on the Professional Advisors Board for Champions for Learning/ Education Foundation. Linda is a member of the Forum Club of Southwest Florida, the Investment Management Consultants association, the CFA Institute and the CFA Society of Naples. She is a past chair of the Board of Trustees of the Community Foundation of Collier County, past president of the Forum Club, former Commissioner of the Naples Airport Authority, former Advisory Board member for the University of Miami Finance Department, and has served on the Board of Trustees for Champions for Learning/ Education Foundation, Southwest Heritage, and Naples Community Hospital / NCH Healthcare Systems where she served on the Finance committee and chaired their Investment Committee.