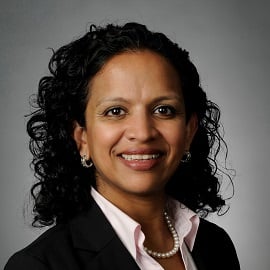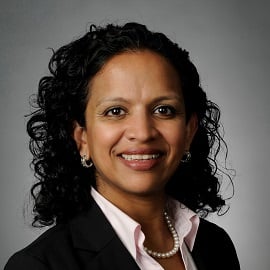 Sunitha C Thomas
Regional Senior Investment Officer
Joined Northern Trust
2004
Education
Double Major in Economics and Latin American Studies at the University of Chicago
Completed one year abroad at Oxford University in England
Masters in Business Administration from the Wharton School of Business of the University of Pennsylvania
Credentials
Chartered Financial Analyst
Member of the Investment Analysts Society of Chicago
Certified Private Wealth Advisor
Member of the Investment Management Consultants Association
Expertise
Sunitha C. Thomas serves as a Senior Vice President and Regional Senior Investment Officer in the Wealth Management business unit at Northern Trust. Ms. Thomas advises clients on optimizing their asset allocation and identifying investment opportunities in the context of their overall balance sheet and unique goals. With over 27 years of experience, she specializes in the design, construction and evaluation of complex multi-asset class investment portfolios for ultra high net worth families.
Experience
Ms. Thomas has a diversified financial services career having previously served as the Segment Leader of Wealth Advisory Services, where she was responsible for strategic development and execution nationally in the $20-$200 million client wealth segment. Prior to this, Sunitha was the Associate Director of Equity Research for Northern Trust Global Investments. In addition to her analyst responsibilities, Sunitha served on the NTGI Leadership Council, chaired the NTGI Diversity and Inclusion Council and chaired the NTGI Stock Selection Committee. Prior to joining Northern Trust, she was an equity analyst and Vice President at Putnam Investments, a high yield analyst at Fidelity Investments, and an Investment Strategy analyst at SEI Investments. She also completed an expatriate assignment in Hong Kong while covering Emerging Market investments for Fidelity.
Sunitha serves on Northern Trust's Investment Policy Committee, Investment Governance Committee and Investment Advisory Committee. She is also a member of Northern Trust's Employee Benefit Investment Committee (EBIC) which has fiduciary investment responsibility for Northern Trust's Employee Benefit Plans. As a National Portfolio Advisor, Sunitha is engaged with various industry press including but not limited to the Wall Street Journal, Reuters, Associated Press and Bloomberg
Community Involvement
Ms. Thomas currently serves on the Board of Directors of the Harris Theater and the Chicago CFA Society. Prior to that, she has served as the Chair of the Finance and Audit Committee of the Music Institute of Chicago, Co-Chair of the Distinguished Speakers Series of the CFA Society of Chicago, and Trustee of the National Kidney Foundation of Chicago.